BURIED IN BLACK – Black Death
10. Okt. 2011 | von
Pia-Kim Schaper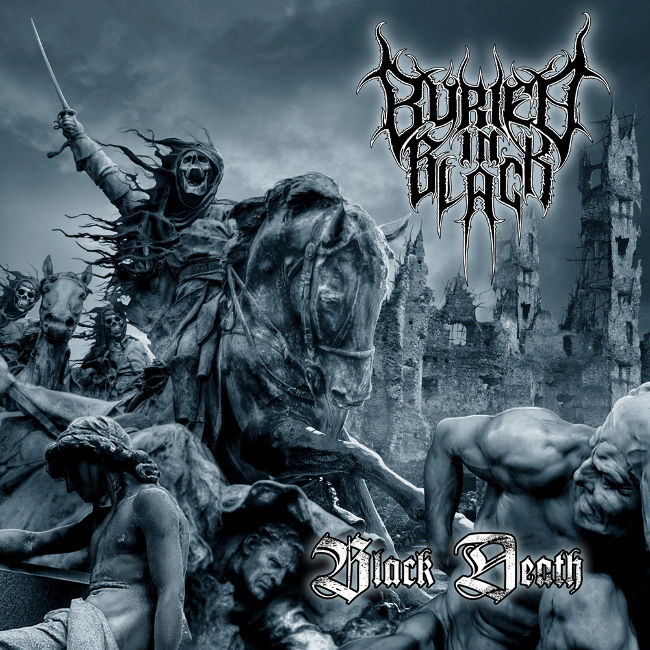 Band: BURIED IN BLACK
Album:
"Black Death"
Genre:
Death Metal
Spielzeit:
42:55
Release Date:
10.06.2011
Label:
AFM Records
Web:
www.buriedinblack.de/
Bewertung:
6 / 10
1. The Bait
2. Parasite's Paradise
3. 7.405.926
4. One Life Left
5. A Vast Hereafter
6. Less We Forget
7. Act Of Caprice
8. Godseed
9. Violand
10. One Ate Seven
Fieses Gekeife auf rumpeligem Sound.
Die Hamburger BURIED IN BLACK setzen auf ihrem Debüt-Album "Black Death" auf rohen Sound. Die Produktion ist auf alt getrimmt, der Gesang besteht gleichberechtigt neben den Instrumenten. Auch sonst wühlt das Quintett in der Retro-Schublade; schnelle Gitarrensoli werden akzentuiert eingesetzt, die Combo setzt lieber auf Rhythmus.
Doch dabei bringen sie eine große Portion Melodie mit in ihren Sound – und das darf durchaus auch mal schnell sein, wie bei "One Life Left". BURIED IN BLACK hauen dem Hörer zehn Nackenbrecher um die Ohren, die ordentlich Wumms haben, die Musikwelt aber nicht um neue Aspekte bereichern. Technisch einwandfrei zocken sie sich durch die Moshpit-füllenden Stücke. Der Gesang ist fies und aufpeitschend.
"Black Death" ist ein Werk, das Rhythmus und Melodie gut verbindet, insgesamt aber recht blass bleibt. Live versprechen die Stücke, ordentlich reinzuhauen. Trotzdem stecken BURIED IN BLACK irgendwo im Mittelfeld der melodischen Death-Metal-Bands. Da geht noch Einiges! Das Potenzial dafür ist vorhanden.